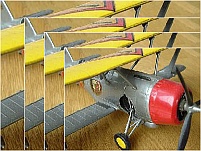 Simple Slide Shows for eBay
Need a small animation script to display your photos in a slideshow?
Here are 14 simple javascript codes to automatically flip through
your list of photos for a more interesting and dynamic user interface. Fade...Slide...Flip...Shrink...Scroll...and more...
Enter your list of image codes or plain URLs, or use our samples.
All photos must be the same size and shape.
Choose a slideshow method

0
• Use only one slideshow per page. Multiples will interfere with each other.
• The photos used in the slideshow should not exceed about 70Kb each, otherwise they may take too long to load and the slideshow may not run.
---